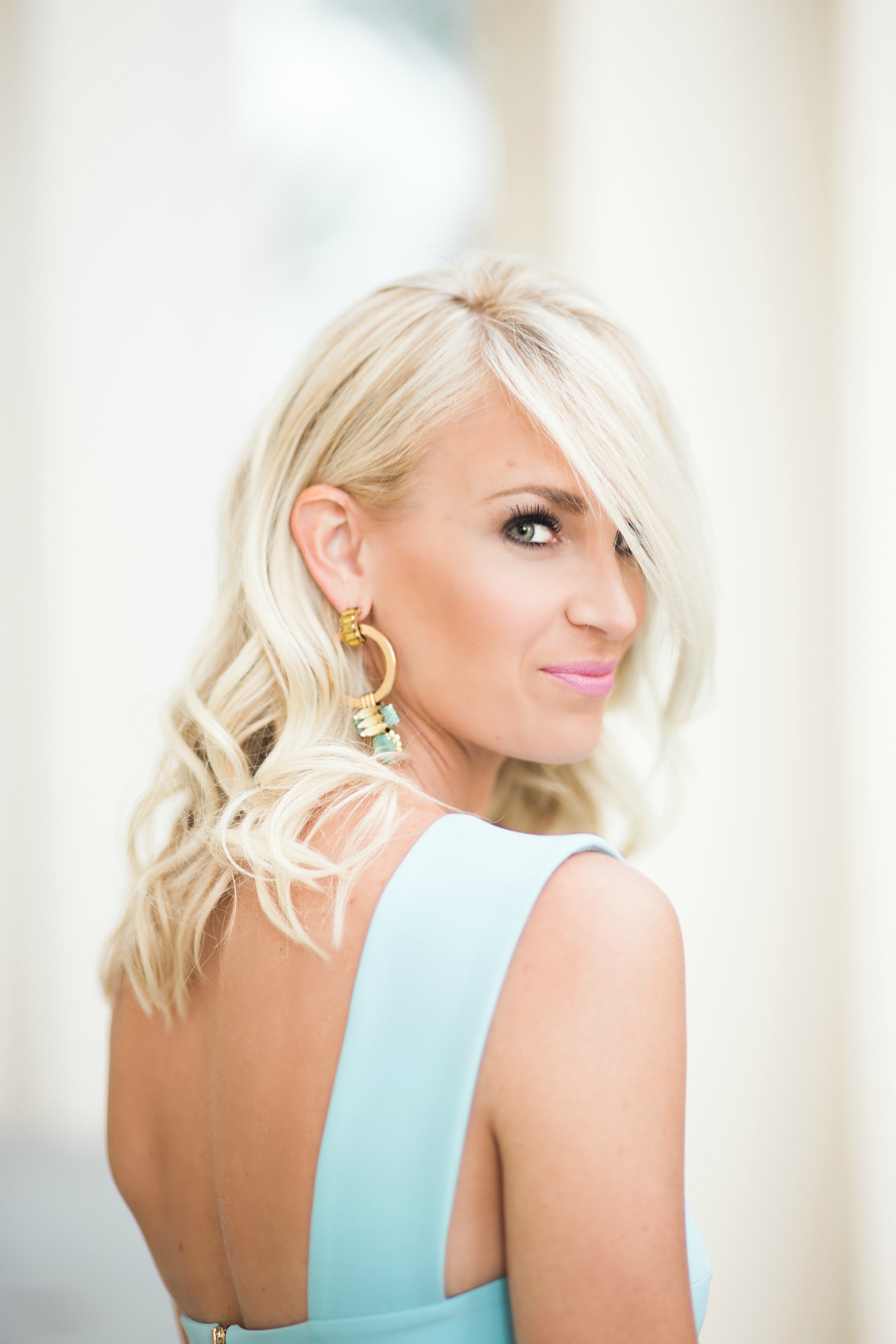 Hair Color by Alicia Kane | Makeup by Cara Paymaster | Blue Dress | Rent the Runway Earrings | MAC Pink Nouveau Lipstick | Photo by Reality and Retrospect
I wanted to give you guys an updated hair color post! Thank you all so much for your emails, hopefully you will find this helpful 🙂 First, let me start by saying my natural hair color is around a level 7, which is a very light brown/dirty blonde shade. For me, starting at a level 7, it's fairy easy to lift to such a light ash blonde shade and still maintain healthy hair. The darker your natural color is, the more difficult it is to raise to a platinum blonde without damaging your hair .
I have never done all-over-color, heavy highlights only. I personally like the natural look of highlights, it helps add dimension by blending both your natural hair color and highlights. I've found it grows out nicely and is super easy to blend with dry shampoo or baby powder, which you all know I'm a BIG fan of! Where all-over-color is very hard to blend as it grows out because you see the harsh line of regrowth, leaving you in need to visit the salon every 4-6 weeks.
I typically only do a full foil a few times a year. I usually can get away with partial highlights throughout the summer months because exposure to the sun helps to maintain my platinum blonde. Upkeep is a major part of my hair color and purple based shampoo's are a MUST to maintain my ash shade of blonde. I usually wash my hair 2-3x a week, so I would say 1-2x a week I shampoo with the purple enhancer (and let it sit for 2-4mins). This tones out any unwanted warm golden tones. Note: If you let it sit for too long, it will turn super ashy, like Easter egg kind of hair, but it will eventually fade and wash out. I've had plenty of experience with that, lilac is not my best color ha!
Products: Like I used to tell my clients, your hair is like a silk designer gown, you're not going to pay $$$ mega bucks for this gorgeous dress only to throw it in the wash with your towels, are you? Girl please…treat your hair color the same way! Using good products is the only way to maintain your color and condition of your hair. This doesn't mean you need to spend $40+ dollars on the top of the line products, but I would stay away from the cheap grocery store brands.
Great Shampoo & Conditioners I love:
Moving is great, but finding a new stylist can be such a hard task. Luckily, I found my new home at Belle Sirene in La Jolla. Sherri, the owner, along with her hand-picked staff are truly amazing. The staff is extremely talented, friendly, well trained, and together they create a wonderful and welcoming atmosphere. My stylist is Alicia Kane, she's from the Bay area and is very good with blondes! Being a former hairstylist, it is always a little nerve racking sitting in someone else's chair and letting go of my control, but I couldn't be in better hands at Belle Sirene. If you are a CA local, be sure to check out their new salon in the beautiful La Jolla!
My current hair color formula:
From my Stylist Alicia Kane: For your hair I use all Wella professional color. I did a heavy highlight and added medium-light ash light blonde for your base color to create a soft cool beige blonde. I mixed Brazilian Bond builder into your formula to ensure elasticity & to reconstruct the hair while it processes. I used a pearl platinum toner all over to get that perfect McKenna Bleu blonde! Wash with Oribe Gold Lust Shampoo which reverses damage, boosts scalp circulation & smooths each cuticle for ultra-soft hair. Treat hair with Gold Lust Transformative Masque strengthens damaged hair, restores elasticity & is super reparative.
If I left anything out or if you have any other questions, feel free to comment below! I'm also going to work on some new hair tutorials for you, let me know if there is anything in particular you would like to see!