When I think about all the places I've traveled in the world, nothing quite compares to St. John USVI. Don't get me wrong, you can't find a bad place to visit in Northern Italy or on the coast of Portugal. For me, St. John will always hold a special place in my heart. It was the very first place my husband and I vacationed together. It is also where we said "I do" just over three years ago.
Why visit St. John?
Well, for starters, you are not required to have a passport to visit. This is great for those who may not have one and want that full 'getaway' experience. Also, it's a fairly easy flight for anyone on East Coast. Although easily accessible, it's remote and often times we are one of a few on the beach – sounds amazing, right?! All this and it's reasonable in price, especially if you rent a house with your family (so many great deals). Furthermore, St. John's beaches are ranked top 10 most beautiful beaches in the world – just look at this view….#nofilter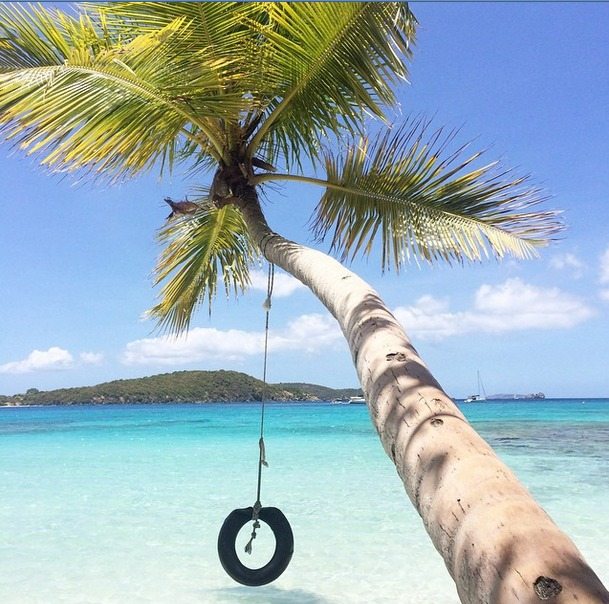 Where to stay:
Another bonus: St. John has few big chain-resorts & hotels. This requires that you take a good look around to figure out what lodging setup will work best for you. Luckily, this is my fifth time to the island so I've done all the legwork for you. The biggest decision is what side of the island you'd like to stay on. You basically have two options: either you stay towards the town center, Cruz Bay or you can opt for the path less traveled, Coral Bay.
Cruz Bay: is where all the action is. It has great restaurants, lots of hotel accommodations, beach bars, nightlife, and the ferry port. It's the perfect location to enjoy a variety of beaches by day and dinner on the water by night. Below are a few of my favorite hotels/resorts in the area.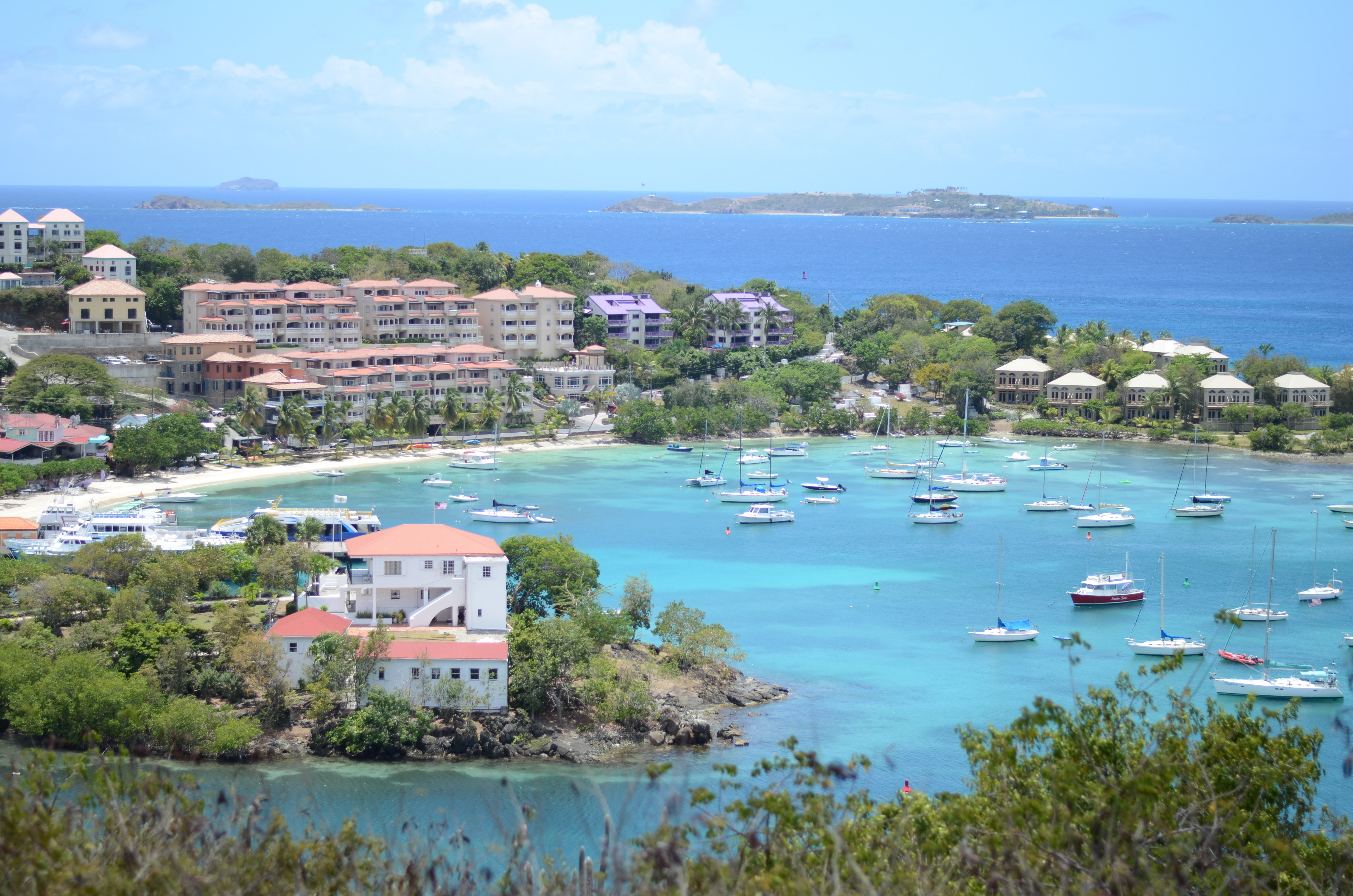 The Westin: this resort is newly renovated and has a private beach as well as great pool area. It's ideal for every family. The Westin also provides a private ferry to and from St. Thomas which we always take advantage of and is certainly worth the cost.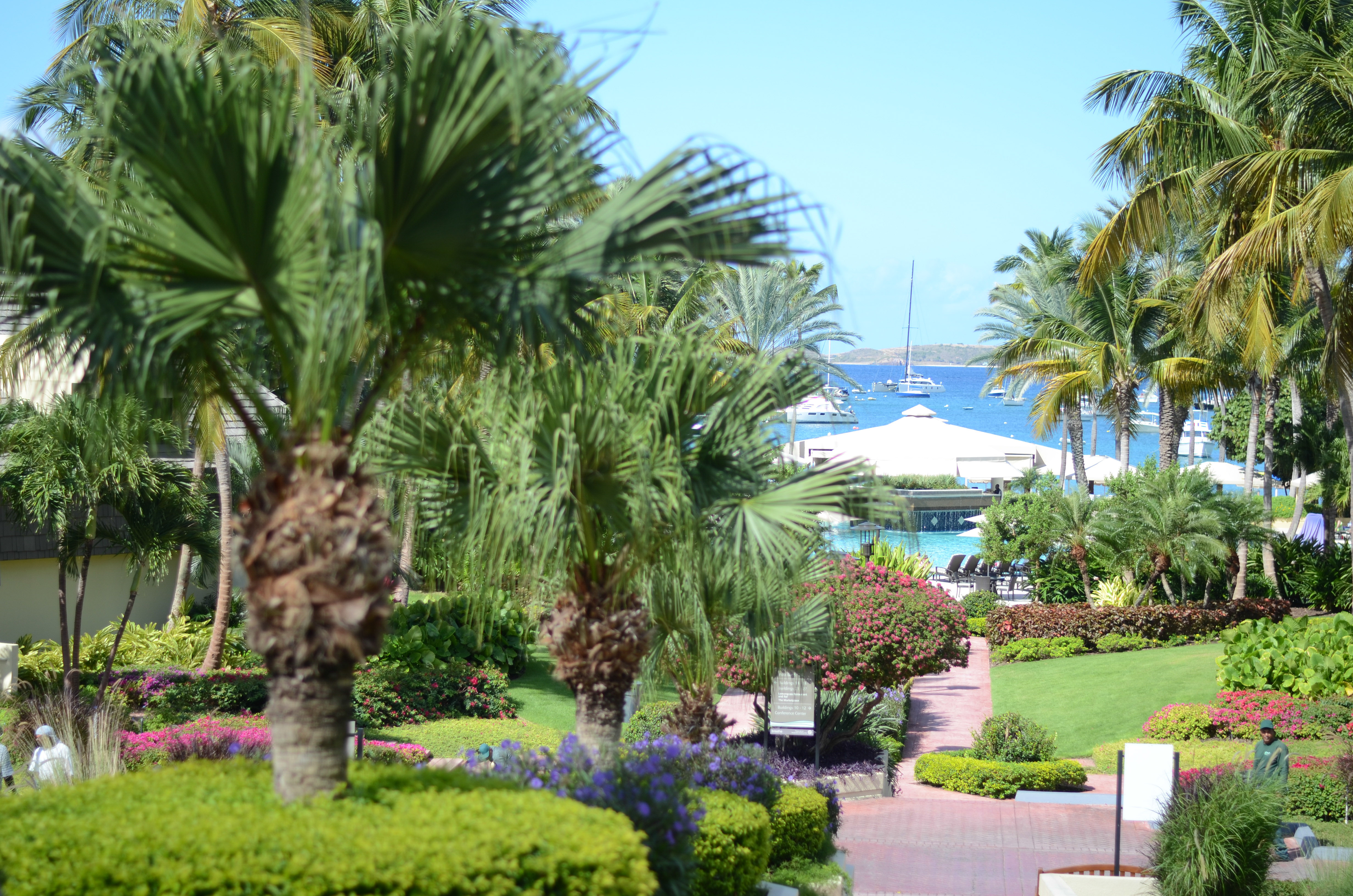 Cannel Bay: is the ritzy hotel on the island. With visitors like Brad Pitt & Angelina Jolie, this resort spares no expense in the terms of luxury and service. Highlights include a few private beaches, golf course and five star dinning options.
Gallows Point: these villas are located on the point of the bay with views worth a million bucks! Don't get me wrong this resort is not quite in my blogger budget, but worth the splurge if you ask me.
Cruz Bay Boutique Hotel: small, quant and everything you need. This small hotel is located in the heart of Cruz Bay and walking distance to all the restaurants and bars. This boutique is ran similar to a B&B and the owners couldn't be sweeter. If you aren't looking for fancy oversized plush bedding, but rather a place to get some shuteye, this little gem is just for you.
Coral Bay: become one with the locals and by locals I mean donkeys. No, really you will see all sorts of life on this side of the island. With a few restaurants and a handful of grocery stores, Coral Bay remains peaceful, just how everyone likes it. It's close to a twenty-minute drive back over to Cruz Bay and these hills are no joke, especially at night. Houses for rent are less expensive on this side of the island. These home are also ideal for families who want to enjoy some beach days while maintaining their ability to cook at home. You may even see Kenny Chesney down at Island Blues sipping on a painkiller or over at Skinny Legs for their famous burgers.
Photo via Rebekah Westover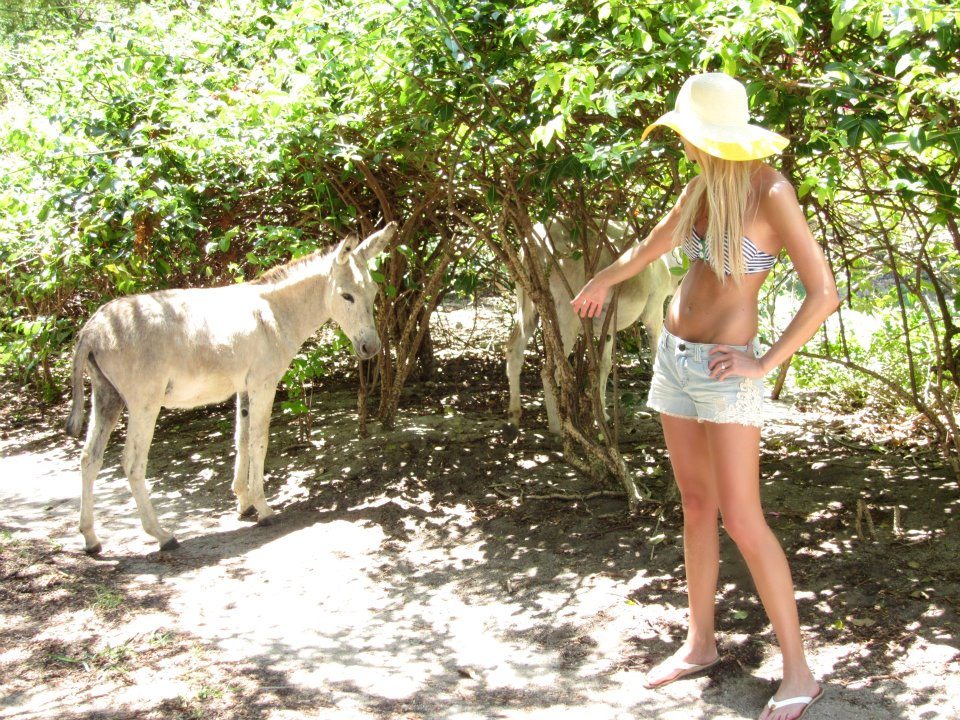 For accommodations in Coral Bay, Vrbo.com is the best way to go!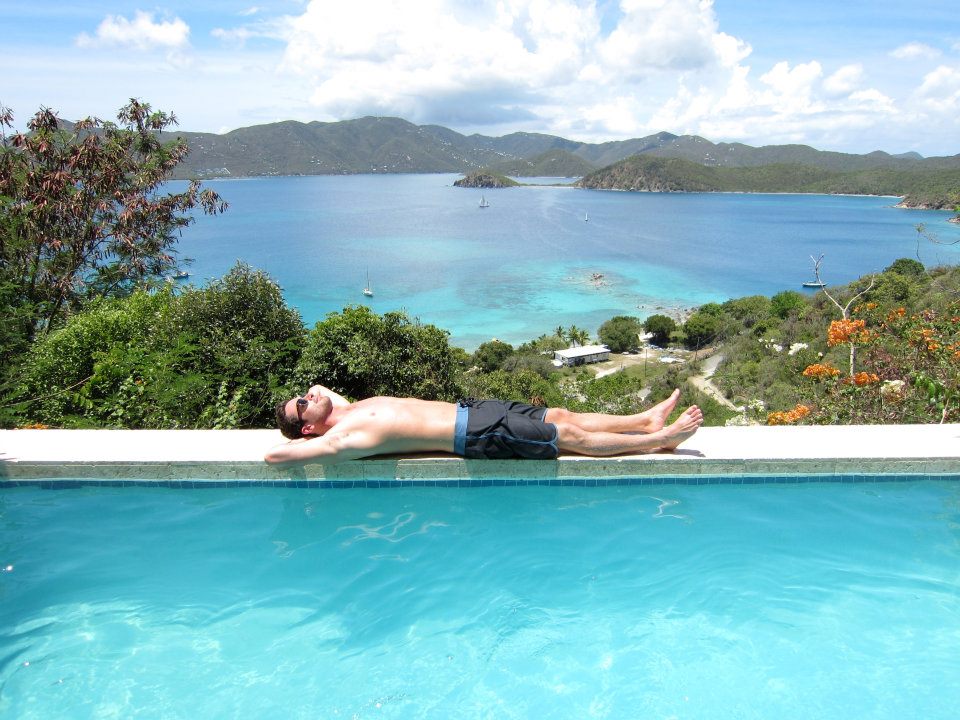 What to do:
Beaches, beaches and more beaches! You definitely need to rent a car to see them all. The majority of available vehicles are Jeep Wranglers, which of course are fun to drive all over the island. As for the beaches, you can't find a bad one. However, there are a few you absolutely cannot miss.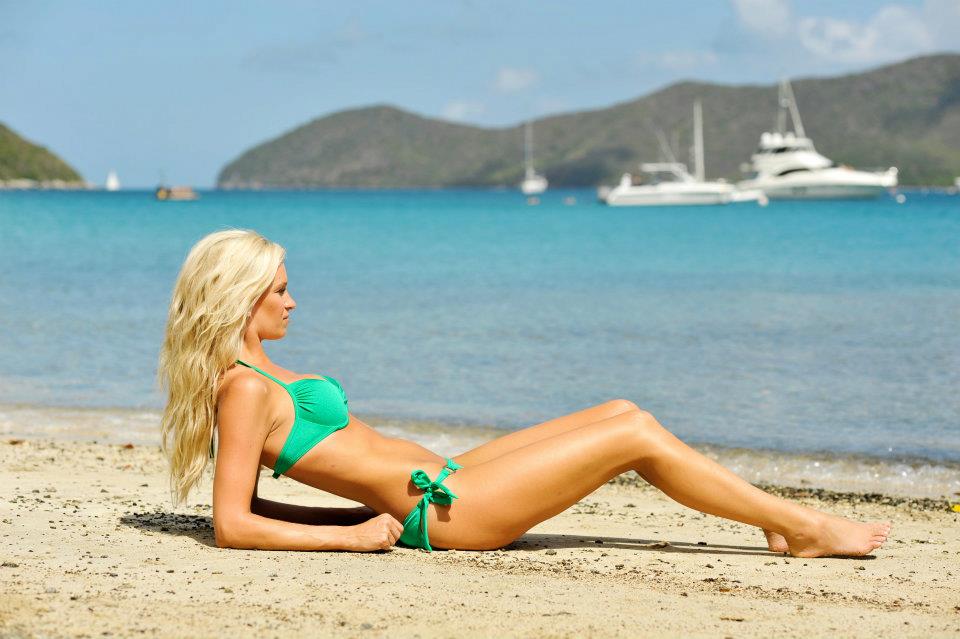 Swimsuit- Victoria Secret // Phot0 via Rebekah Westover
Trunk Bay: the most famous beach on the island – worth a visit. This beach is definitely more of the touristy beach because it is so well known. They charge $4 per person to enter, but they also have bathrooms, a snack bar, and picnic tables. Trunk Bay is also known for its fluffy white sand and excellent snorkeling. I suggest getting there early to avoid the crowds.
Photo via Rebekah Westover
Maho Bay: oh, Maho! Well, I'm completely bias on this one because underneath the two perfect Palm trees is where I said, "I do." This beach is not only picturesque, but also has restrooms, a picnic area and decent parking.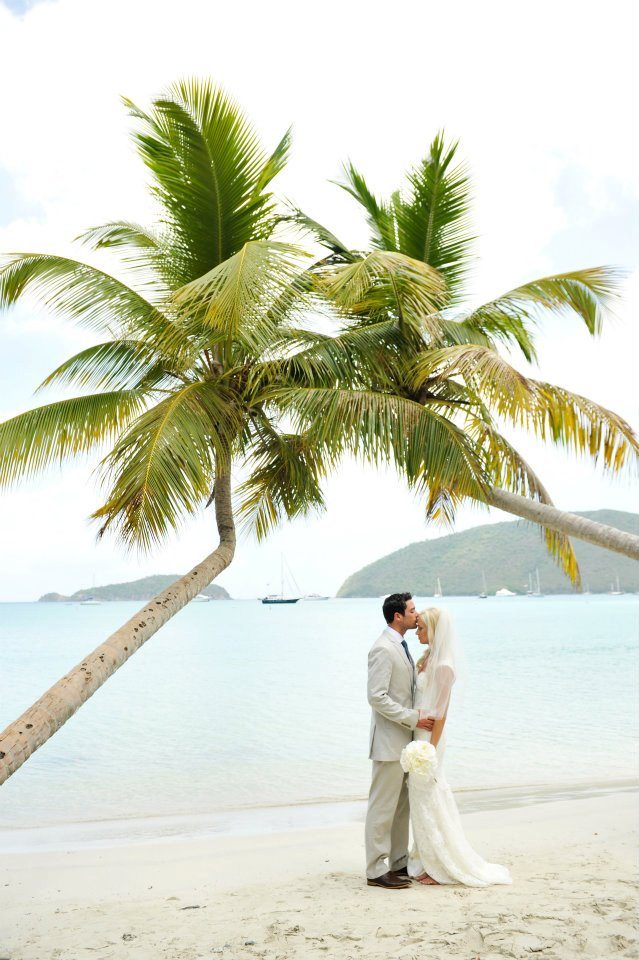 Photo via Rebekah Westover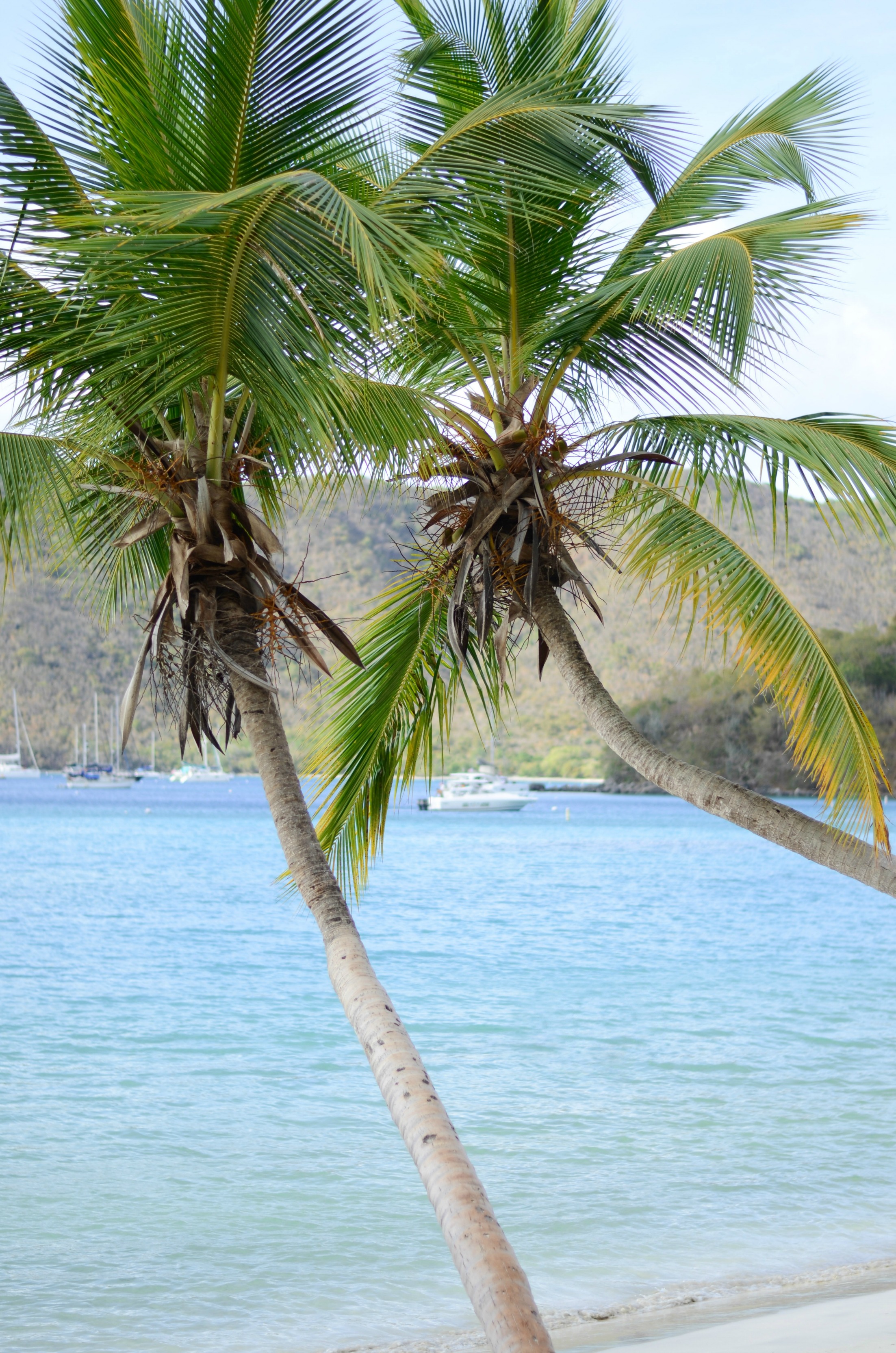 Gibney/Oppherier Beach: remember the postcard view from above? That's this magical place! The majority of visitors easily overlook this beach. I finally discovered this hidden gem after a few trips. You ask how to get there? Okay, if driving east, look for a white picket fence just beyond Hawksnest Beach. Right next to that is a small parking area that can accommodate about four or five vehicles. There is a clear path down to the beach from that parking space. Because parking is so limited, get there early. This is by far our favorite beach on the island. We were on only ones there on a couple occasions – my kind of place.
 Hayden Reis Beach Tote // Mara Hoffman Cover up // Lulu & Georgia Blanket // Jack Rogers Sandals // Under Outfitters Sunglasses // Beach Hat
Francis Bay–  This is certainly a quiet and remote beach, a diamond in the rough as some like to call it. Plenty of shade and excellent for snorkeling.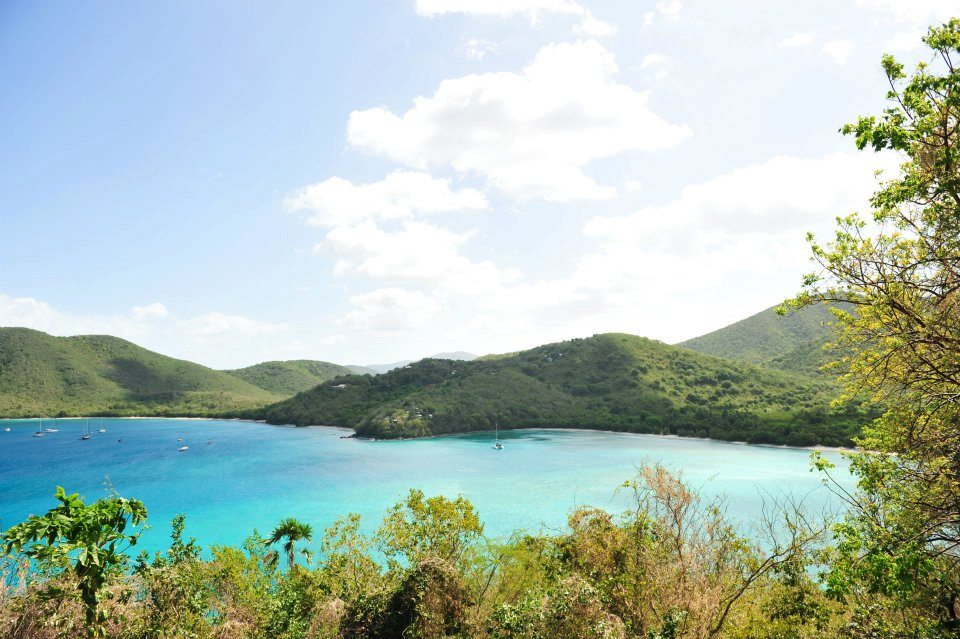 Photo via Rebekah Westover
Day Trips & Tours-
Snorkeling has become an island favorite for both locals and tourist. Whether you choose to snorkel on your own or jump on a snorkel tour, you cannot go wrong. Fair warning, I've seen my fair amount of barracuda – those teeth are no joke!
BVI's. We finally made it out to the British Virgin Islands on this last trip; still asking myself why it took so long. You have your choice of boat charters. We went with the company Bad Kitty. I mean, I have to be honest the name alone sold me. I'm glad to say the Bad Kitty did not disappoint (neither did the open bar). It was a full day boat tour with four main stops: "The Baths", Copper Island, Peter Island and Jost Van Dyke Island (my favorite). The BVI's require a passport and also hit you with a $45 per person charge to enter. This was a highlight of our trip and I highly recommend it to those who enjoy boat rides and exploration.
 Hiking. St. John has a variety of hiking trails. Some are easy and others a bit more technical. One of my favorite trails is from the top of the national state park. This trail leads you down to the perfect little beach known as Honeymoon Beach. This provides a great combination of adventure and relaxation. You can find a full list of other noteworthy trails here.
Where to Eat?
Goodness, where do I begin? I will break it up for you from each side of the island, hopefully that will help narrow down your choices.
Cruz Bay:
–Tap Room.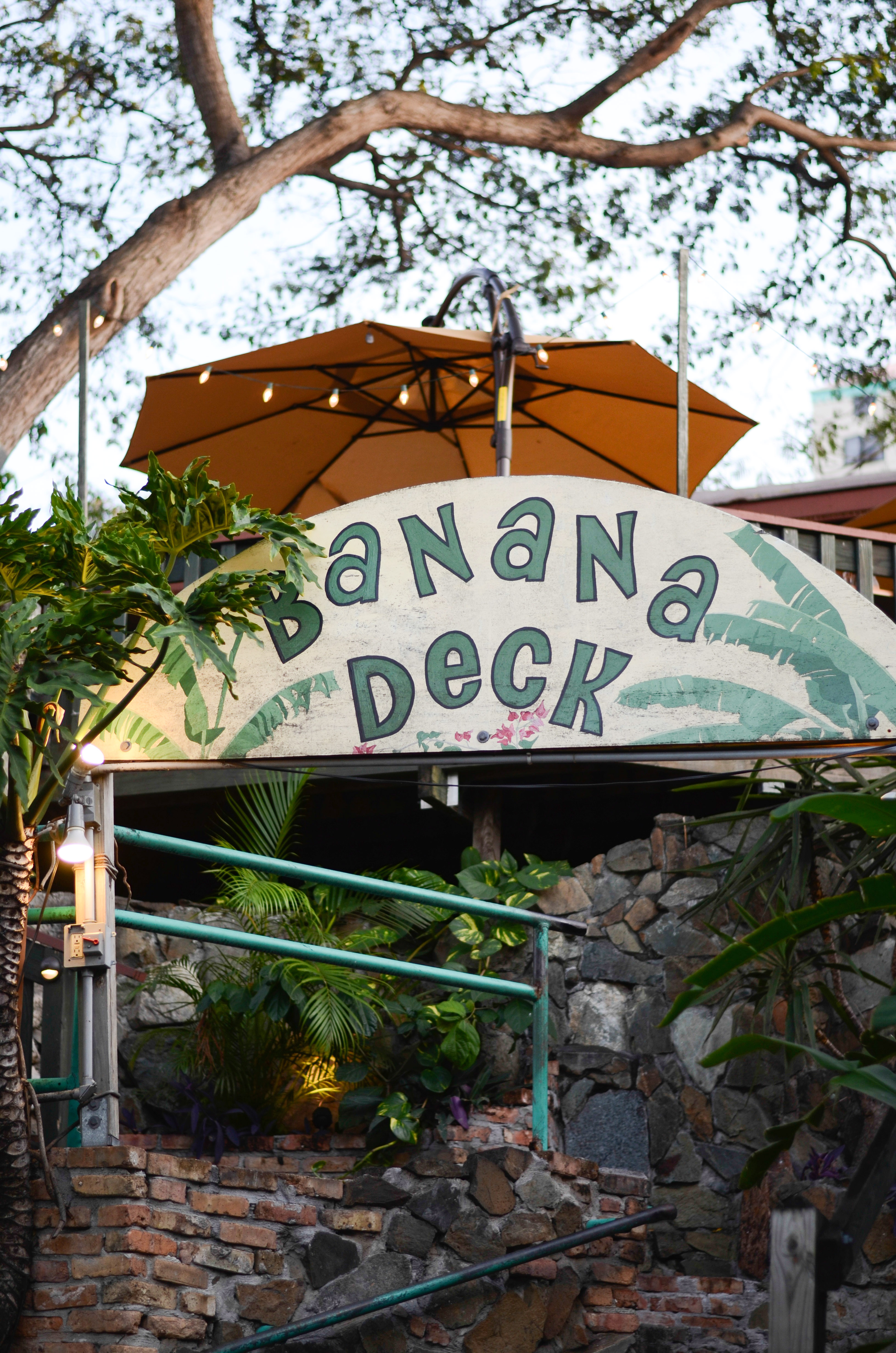 –Asolare.
Coral Bay:
What to Pack?
I get this question often and it's pretty funny. What I pack – being a fashion blogger – is not exactly ideal. Let's just say, if I wasn't a fashion diva and didn't have to have the perfect ensemble for every occasion, packing would be pretty simple.
For her- It's a very casual island, meaning if you're in heels, you will certainly stand out. Ladies, bring one pair of neutral wedges and save your fancy pumps for the city back home. Light maxi dresses, shorts, tank tops and sun dresses are all you really need. Also, don't waste your time bringing every curling iron you own. I tried that and every time, without fail, my hair falls flat & frizzy within minutes of walking out the door. Braids & sun hats are my best friend. Plus you're on vacation, who needs to be all dolled-up while on island time. I say that, but then again look at these photos, #fashionbloggerproblems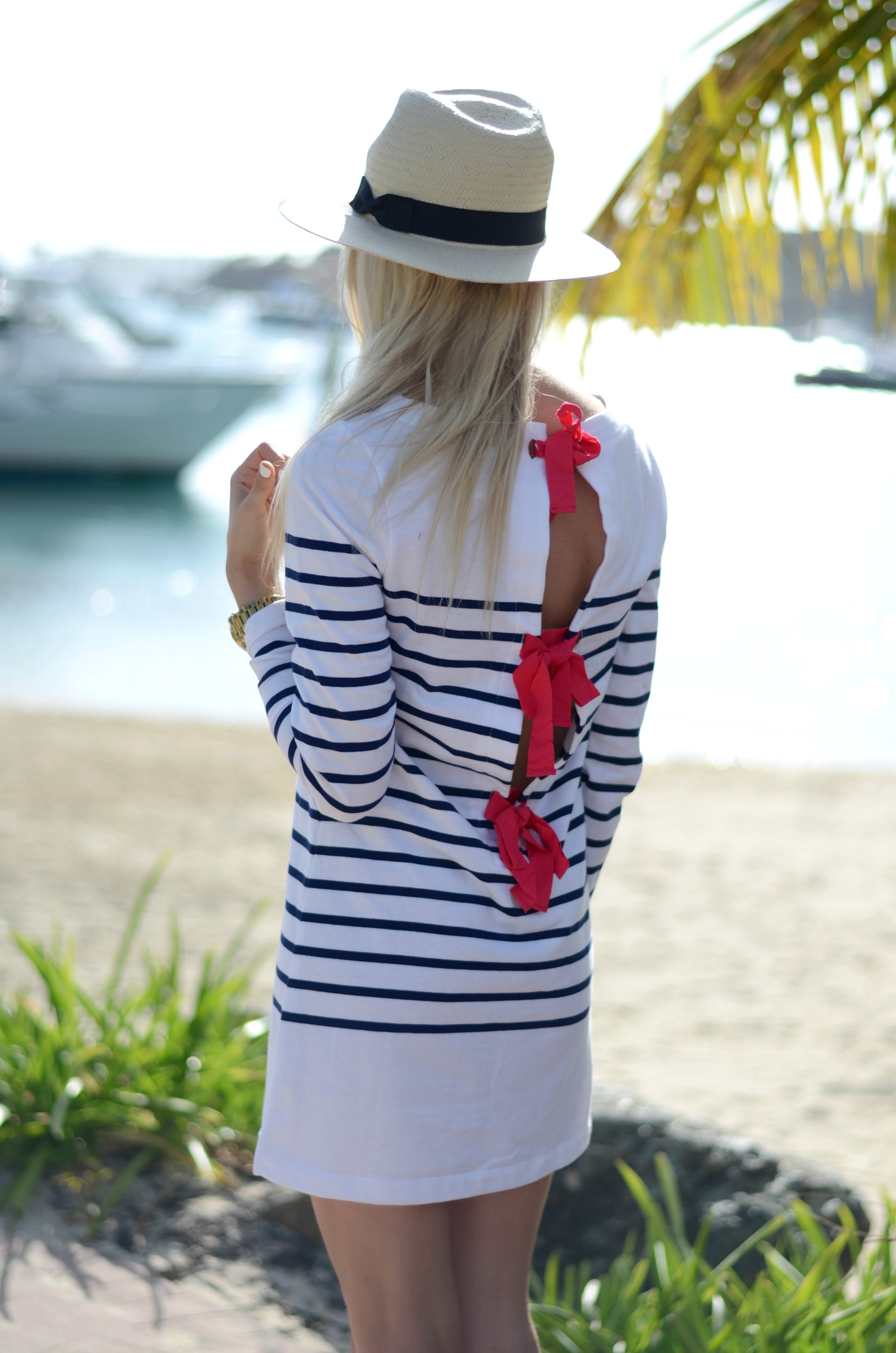 Mara Hoffman Dress // Jack Roger Sandals // Sunglasses // Earrings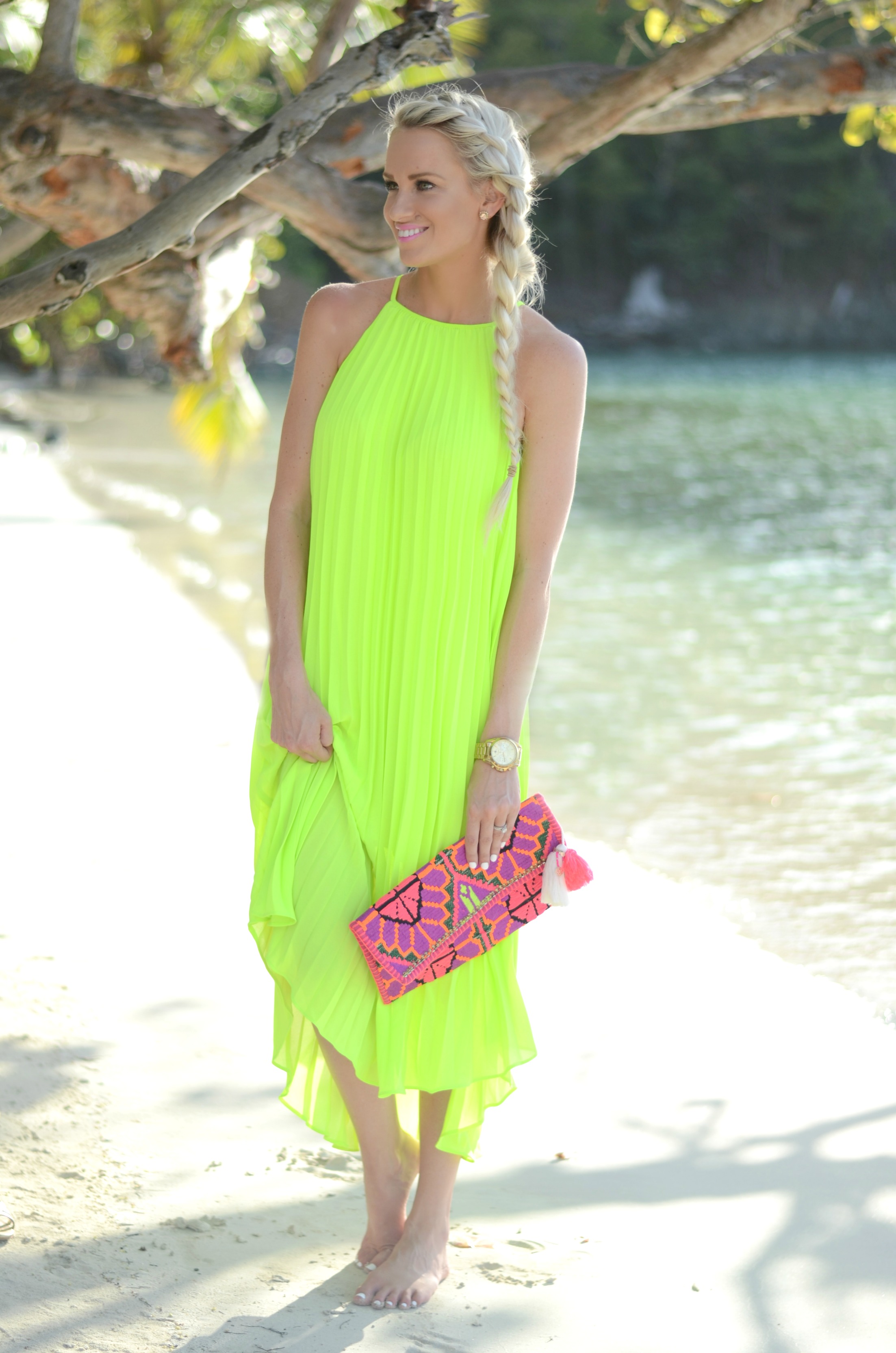 Shark Cover up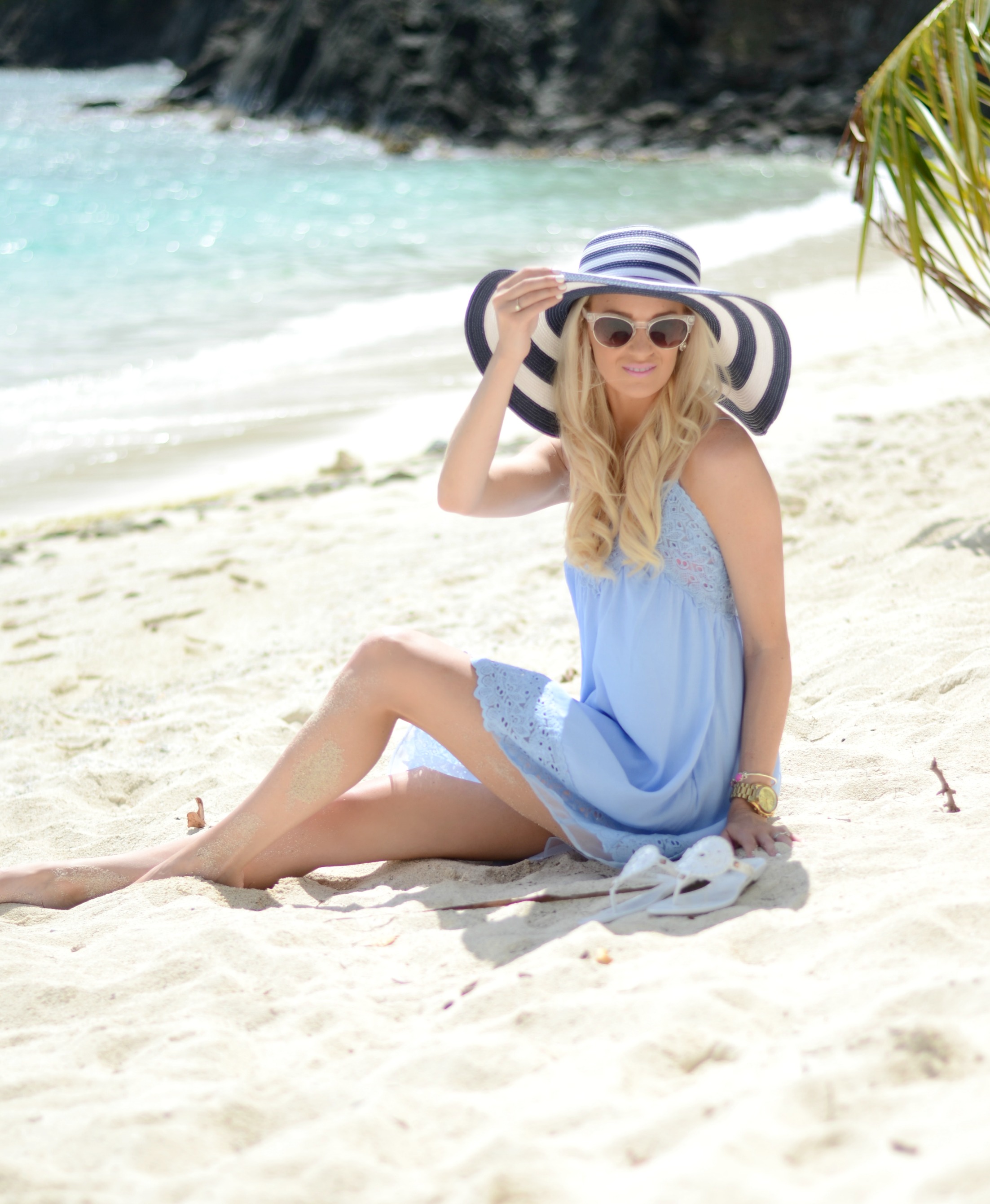 Shorts // Mermaid Tee // Lulu's Watermelon Clutch
For Him- if you're boo is anything like mine, I can hardly get the kid out of his swimsuit for dinner. Needless to say, very casual. Basically a shirt and shoes are the only requirement for most places, & obviously pants let's be serious. #duh Mr. Bleu's go-to look is light weight shorts, tee and flip flops or boat shoes. I mean, he obviously looks great in anything he puts on (that's why I married him), but that's the typical attire for the island. I would suggest packing at least one collared shirt in case you choose a fancier dinner location like at Asolare or Caneel Bay.
Photos via Rebekah Westover  
By now you know where to stay, what to do, where to eat most importantly what to pack….question is, when do you leave?! I hope this recap is helpful and gives you a better sense of the island and what to expect. As always, please feel free to ask any other questions you may have in the comment section below or email me directly at McKennaBleu@gmail.com!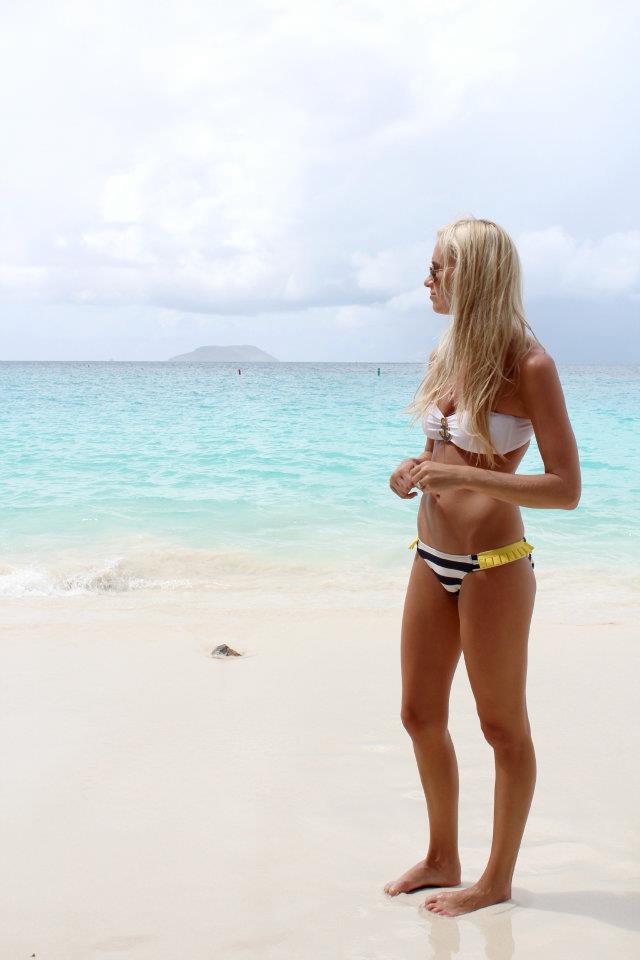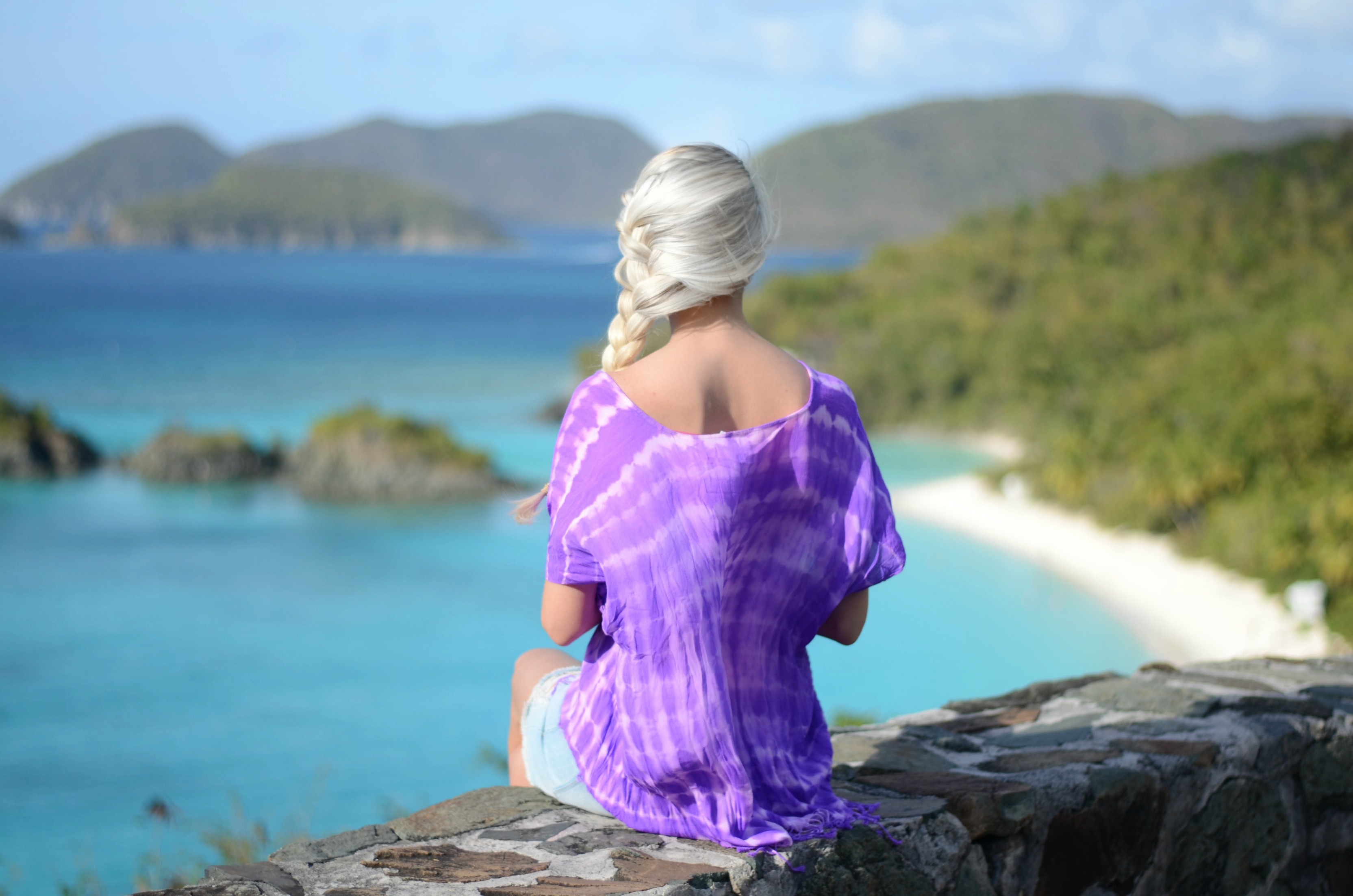 St. John Style:

A few of my favorite travel/booking sites:
Priceline  / Expedia  / Travelocity / Jetsetter / TripAdvisor / Hilton